After a month here - some thoughts on the site
I've been coming on here once or twice a day for about a month now and thought I'd share a few thoughts on usability from my personal perspective - there's obviously a hell of a lot of work gone into setting this up and keeping it going (including keeping us all protected from spam demons) and its a very polished and professional site, so please take it as read that I really like most of what's here, appreciate you do this at no charge to us and no doubt have plenty of other things to do with your time... so just take this as a bit of feedback on some areas that this user would like to see work a bit differently.
Browsers I use are Win7/IE9, ipad/Safari and iphone/Safari.
1. Font size is too small and this combined with the pink on black doesn't make it easy reading for me - It's kind of OK on the desktop monitor but I really struggle on the iphone. I think in a lot of places you could make the text bigger without increasing the overall size of the screens because there's a lot of blank space between and around lines of text (line spacing).
2. I found the coloured folder icons on the home page confusing for quite a while because it seemed to be saying there were new posts in a whole lot of folders even though nothing had changed since my last visit. it wasn't til I spotted the 'mark all as read' link that I realised the green folder just meant there were some threads I hadn't opened (and am never going to). This may be a first time user problem only, but all I really just want to know is what's new since I last logged in because I'm never going to read every thread here.
3. The forum home pages have more information than I need (this is connected to 1. - less information would make it easier to read and navigate). I don't personally want to know who created the thread or when, how many have viewed it... just who made the last post and when would be enough. Similarly inside each thread I don't really need to see the full details of each member on every post - often this block of info is much bigger than the post which means the page is much longer than it really needs to be. This info section looks a bit screwy (both Windows and Safari) like this: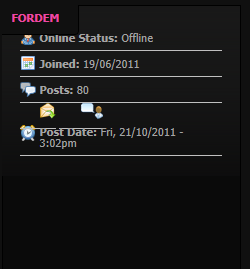 4. I wonder if you need as many forums as you have now - conversation gets spread pretty thin around the place. It feels a bit like going to a party in a venue that's much too big for the number of people there - it would be a better party in a smaller room. Perhaps reduce the number down for now (something like technical, driving, buy & sell, general chat/other?) and you can split them up again over time as the number of people grows.
That's all. For now... ;)
Don